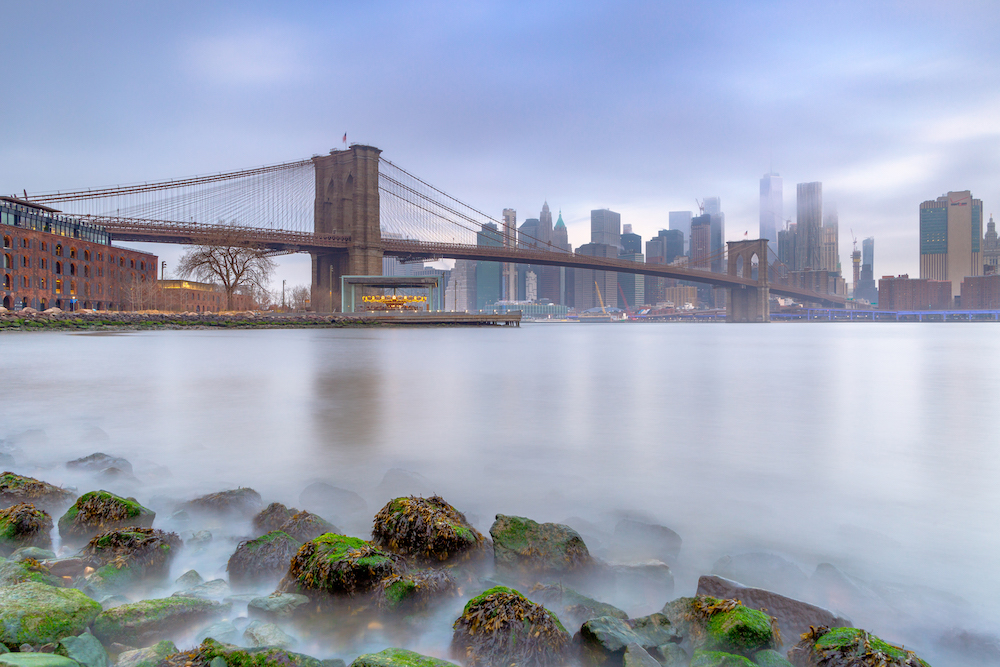 Iconic Brooklyn Bridge
Embark on a solo adventure across the iconic Brooklyn Bridge. This architectural marvel offers unbeatable views of the Manhattan skyline and the Statue of Liberty. Take in the sights and sounds of this historic landmark on a walking tour, capturing the essence of New York's urban landscape.



Charming DUMBO
Once you've crossed the bridge, continue your walking tour in the charming DUMBO neighborhood. Down Under the Manhattan Bridge Overpass has transformed from an industrial area into a vibrant arts and cultural hub. With stunning waterfront parks, trendy eateries, and unique shops, DUMBO is an ideal destination for solo travelers looking to explore New York's urban environment.
Street Art in Bushwick
For a more off-the-beaten-path experience, join a walking tour of Bushwick's street art scene. This edgy Brooklyn neighborhood is renowned for its colorful murals, graffiti, and other urban art installations created by local and international artists. As you wander through the streets, your guide will share the stories behind the artworks and introduce you to the area's thriving creative community. You'll also have the chance to explore local galleries, vintage shops, and hip cafes.



Tips for Solo Travelers on Walking Tours
Plan Ahead
Research different walking tour options and read reviews before booking. Consider the tour's duration, group size, and inclusions such as food or entrance fees. Booking ahead will ensure you secure your spot and allow you to plan your itinerary accordingly.
Be Prepared
Make sure to wear comfortable shoes and weather-appropriate clothing, as walking tours often involve several hours of walking outdoors. Don't forget to bring a water bottle and any necessary medication or personal items.
Engage with Your Guide
Your tour guide can provide fascinating insights into the history, culture, and local life of the neighborhoods you're exploring. Don't hesitate to ask questions and engage in conversation with your guide.
Stay Safe
While walking tours are generally safe, it's important to remain aware of your surroundings and take basic precautions. Stick with your group, follow your guide's instructions, and avoid venturing into unfamiliar areas on your own.



Conclusion
A walking tour is an excellent way for solo travelers to explore New York's diverse neighborhoods and attractions, while connecting with like-minded individuals. The Brooklyn Bridge and DUMBO, and Bushwick's street art scene are just two of the many walking tours available in New York City, each offering a unique perspective on the city's rich history, culture, and urban landscape. With our recommended walking tours and helpful tips, you're sure to make the most of your solo adventure in the Big Apple.